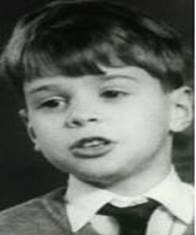 The Observer 20/05/12
SCENE OF THE WEEK
There were stirring tales in the first slice of 56 Up (ITV1) - the latest in Michael Apted's brilliant, long-running documentary - but none cut to the heart more than that of Neil Hughes. Here he was in 1964 an animated, lovely boy in his duffel coat, skipping along a tidy suburban street in Liverpool, or in 1968 on his bike, satchel on his back, the wind in his hair.
He dreamed of going to Oxford, but at the age of 21 he was working on a building site and living in a squat. At 28, homeless and gaunt, hoicking up his trousers as he shuffled along in the rain, he seemed already defeated by life, his clear intelligence seemingly of no use to him. What on earth had happened, you wondered. We never really found out. He had suffered from 'a nervous complaint' he said. These days, at 56, he retains his hunched intensity, his thinning lock of hair, the same crooked tooth of adolescence. He spoke in tentative bursts, watchful, holding back more than he revealed. He's a local councillor in Cumbria. He has little money but has found a place here and the company of good friends.
We saw him, collar and tie, cycling on a sunlit hillside, sheep scattering at his approach, and just for a moment we caught a glimpse of the boy he once was, with the world at his feet and his whole life in front of him.